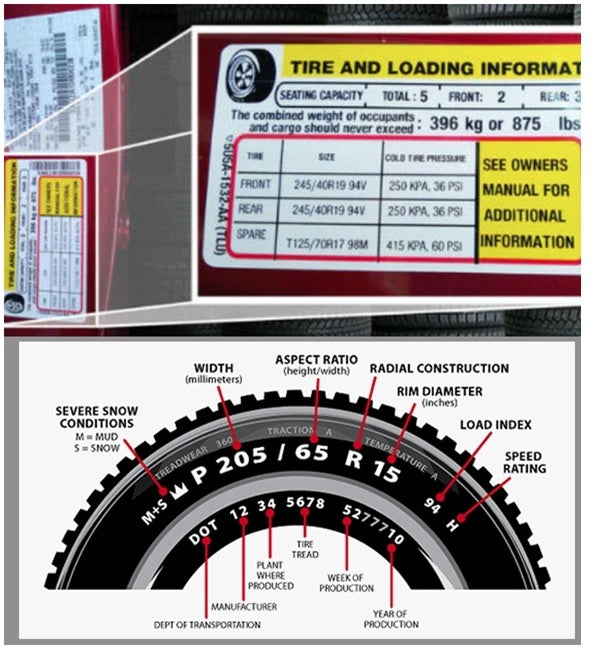 1. Confirm your tire size
Refer to the tire size placecard by your vehicle's driver door or the side wall of your exsisting tires.
For tire purchases without rims, it is important to have the tire size accurate to ensure proper fitment on rims.
All-season, all-weather and summer tires should have the same or higher load index and speed rating. Winter tires may have a lower speed rating.
2. Choose your tire needs
All Season Tires

Most popular tire on the road
Built to handle "everyday" driving conditions
Balanced dry and wet performance levels
acceptable snow traction in regions with light winter weather
Designed for year round usage
Typically a long tread life

Shop All Season Tires

All Weather Tires

Combine the best properties of a winter and all-season tire
Grip in temperatures below 7°C
Won't wear down in the summer months as a winter tire
Work best in locations that constantly hovers around 0°C
Not grip the road in very cold temperatures as a winter tire
May wear down faster in warm weather than an all-season tire

Shop All Weather Tires
Summer Tires

Designed for high-performance vehicles
Optimized dry and wet performance in a temperate environment
Not recommend during the winter season

Shop Summer Tires

Competition Tires

Track-capable tires that can be driven on the street
Somewhat longer wear life than track-only tires, plus modest wet capability

Shop Competition Tires
Winter Tires

Designed for winter season (ice, snow, and slush)
Severe consistently below freezing &/or substantial precipitation
Not intended for year round usage

Coming Soon
3. Order Review
Once an order is placed, your payment method will only be authorized. Our tire experts will then review your order and confirm inventory before finalizing your payment. Once everything looks good, your payment will be processed.
4. Delivered right to your door steps
Once your tires are ready, we will ship them right to your delivery address. A signature will be required upon delivery.